Move2Health Equity is a coalition in the Blue Ridge Health district.  Its focus is on Access to Healthcare, Active Communities, Healthy Food Systems, and Healthy Spaces.  These recipes are produced in collaboration between Move2Health, Antwon Brinson of Culinary Concepts, Sentara Health and Bread and Roses of Trinity Episcopal Church.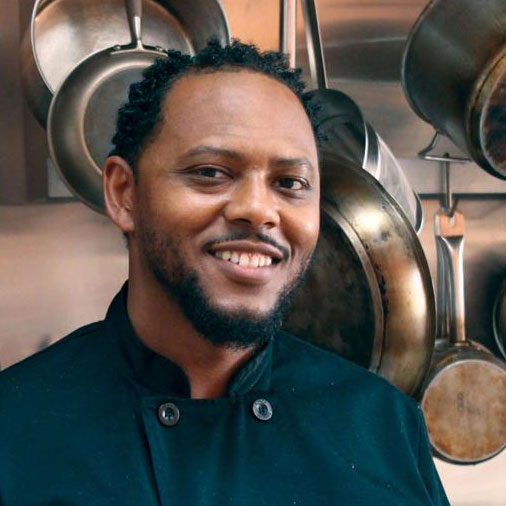 Bread and Roses partnered with Chef Antwon Brinson of Culinary Concepts AB to bring a twelve-part series called "Cooking with Seasonal Healthy Produce." Each class you will learn new techniques, new flavors, and new spices as well as tips and facts to help you in your culinary journey.
For the first video, Chef Antwon is showing us how to make Bircher Muesli, a Swiss-styled oatmeal that doesn't require cooking. This is a fantastic, healthy and delicious recipe for breakfast that includes instant oats, apples, blueberries and dried cranberries and Greek-style yogurt. The recipes can be easily adapted to use any fruit that you enjoy! Chef Antwon has even included alternatives for anyone with a dairy allergy or who is lactose intolerant. It is so delicious, you might want it for every meal!
Chef Antwon has turned Tuna into a meal fit for a five star restaurant. He demonstrates unique knife cuts for getting consistent and beautiful onion and celery for the green goddess dressing as well as a unique way to get the maximum juice from a lemon. The Panko bread crumbs add texture without a lot of Carbs. A healthy and tasty lunch or dinner!
In this video, Chef Antwon is showing us a simple lemon roasted chicken and a three bean salad. This is a simple, yet delicious meal that can be made quickly. A perfect weeknight dinner option or busy weekend meal. The three bean salad is an easy staple to keep in the fridge to bring out for guests or for a mid-day snack.
What you will learn in the video:
How to blanch vegetables
How to prepare and use garlic
And organizational tips to make sure you are efficient and safe in the kitchen
Chef Antwon has given a wonderful historical description of the very nutritious ancient grain. Quinoa as he prepares this recipe and demonstrates how easy and quick it is to prepare. Trout is easily found this time of year and often on sale. You will learn a clever technique to cook trout so it doesn't curl or buckle as it cooks. This recipe is a great source of protein and vitamins and minerals vital for health.
Chef Antwon is sharing a beautiful summer salad that is packed with vitamins and great tasting, using heirloom tomatoes and pickled beets. He shows us an easy stovetop pickling process and a new knife cut "Chif fo nade" as he cuts the greens. The vinaigrette salad dressing is a delicious bonus and an easy go-to. Salads are low in calories and packed with nutrition-Vitamins C and B6. Beets having nitrates and iron are helpful in lowering blood pressure and building iron stores. Stay tuned for more healthy recipes and health tips from Chef Antwon