"Centering Prayer is a receptive method of Christian silent prayer which deepens our relationship with God, the Indwelling Presence. It is a [form of ] prayer in which we can experience God's presence within us, closer than breathing, closer than thinking, closer than consciousness itself."
- Father Thomas Keating
A simplified form of meditation in the Christian tradition; developed mid 1970 by Keating and his Trappis Catholic monks. Purpose: putting the essence of the Christian tradition of contemplative prayer into a simple meditation form practical for people living busy lives out in the world.Like the Eastern Orthodox tradition of putting mind in the heart, this mind in the heart is the keyto compassion and moving beyond egoism to do-good-ism.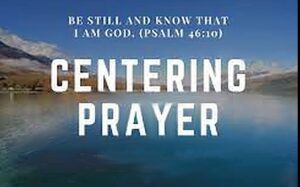 Join us for Centering Prayer on Thursdays from 12:00-1:00 pm. We meet on Zoom, with each session broken into two parts: from 12-12:30 pm, we open with a prayer or poem, followed by 20 minute in silent prayer. In the second part of our meeting, which is optional, we spend about 30 minutes reading aloud and discussing a book, in order to deepen our knowledge and understandingof Centering Prayer practice. We also share spiritual and practical concerns with one another.
We welcome your participation. Just email one of the facilitators (B.B. Vaughn and Jane Perry) to be added to our email list or to ask any questions. You will receive a weekly meeting reminder with the Zoom link.
Contacts: