Dinner Church
The Dinner Church movement, based on Kendall Vanderslice's book, seeks to recover an ancient Christian pratice rather than inventing something new.  The basic elements are people, food and theoloical refelection.  The context and those involved help to shape what the experience will be. Come when you can. Children are welcome.
5:30 - 6:30 Work in the gardens or landscaping around the church
6:30-7:30 Dinner, conversation & theological reflection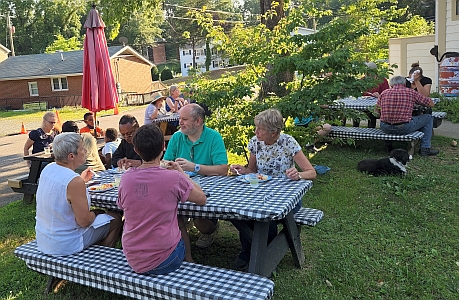 "I am filled with gratitude for everyone who helped with our Potluck Luncheon last week. Standing in the Parish Hall as parishioners came in with their food offerings was magical to me, I truly thank everyone for your generosity. The event kept getting better as so many parishioners and guests came into the Hall to find such an array of wonderful food! Our Potluck Luncheon is on every fifth Sunday, so we can look forward to another excellent meal and companionship!"
- Pastor Cass -
Fellowship Teams
There is no doubt that one of the many enjoyable things about coming together on Sunday mornings is the time of fellowship after worship. Thankfully, we are always blessed with an assortment of snacks, cakes and other goodies to enjoy. The set-up, clean-up and provision of the food each week is proved by one of four teams of volunteers.
If you have a signature dish that you can almost make in your sleep or if you can simply pick something up at Costco once a month, please consider joining one of these four teams. If you are interested, please contact the office.