Serve Our Community & the World
In Our Community
Food Ministry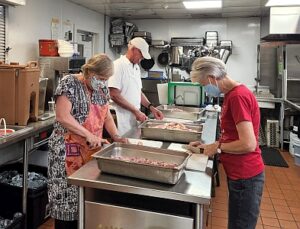 The Trinity Church Food Ministry Team is working with other community partners to cook and serves meals to our neighbors experiencing homelessness.  About 12 volunteers help at various times. To get involved or to find out more about what we do, please contact Fred West for more information.
Cooking: Once a month, several cooks meet between 2 and 4pm in the Haven kitchen to prepare meals. We try to vary the recipes to provide a nutritious and varied meal.
Serving: On the next day, we serve it between 11:30 and 1:30pm. This offers us an opportunity to chat and get to know our neighbors.
The Mitchell House
The Gertrude Mitchell House is a single-family home owned by Trinity and operated as transitional housing for battered women. With support from other Episcopal churches in the Charlottesville Region and the Shelter for Help in Emergency, Trinity has been able to help women rebuild their families and their futures.
City of Promise
An initiative which provides cradle to college and career supports for children in the Westhaven, 10th and Page, and Star Hill neighborhoods. Tutors, mentors, gardeners, and office help.
Interfaith Movement Promoting Action by Congregations Together
IMPACT is a grassroots initiative with a mission to bring a greater degree of justice and fairness to the Charlottesville and Albemarle area. 33 IMPACT congregations come together to work on the root causes of community problems. IMPACT congregations range in size from 20 to 5,000 people and include Protestant, Catholic, Unitarian, Jewish and Muslim congregations. IMPACT addresses and achieves solutions to community problems through the basic organizing processes of listening/networking, research, and direct action meetings. Through coming together we build our power and ability to successfully live out God's call. For more information, contact Erica Lloyd.
Blue Ridge Food Bank
We collect can goods and other nonperishable foods for the Blue Ridge Food Bank. On the first Sunday of the month we highlight this ministry and make a special appeal for Trinity members to fill the basket with a couple of extra things that can be picked up during your weekly shopping trip. Feel free to contribute on other Sundays as well!
In Our World
African Development Project/Harambee (ADP)
Trinity has partnered with St. Paul's since 1985 in its support of specific, effective programs in East Africa that enable communities to grow more food, improve health, education, and income, and care for the sick and orphaned. Occasional meetings.