Trinity Episcopal Church is a lively, inter-generational, and joyful congregation in Charlottesville, Virginia. Its history is unique.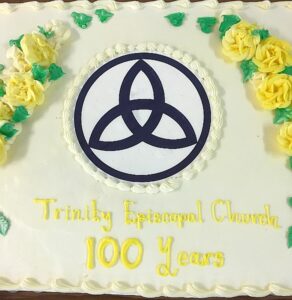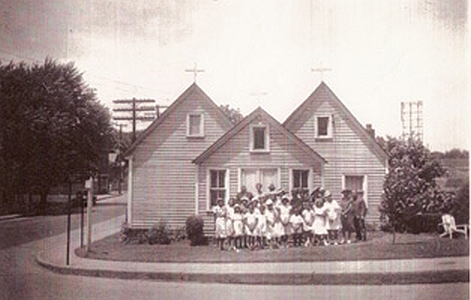 Trinity began as a Diocesan mission in the historically black neighborhood of Vinegar Hill in August 1919, holding services in Odd Fellows Hall. By September, a small group of worshipers was able to move into a building on the corner of High Street and Preston Avenue. The officiant at these early services was Mr. Thomas D. Brown, a student from the Bishop Payne Divinity School in Petersburg, an institution established for the education of "colored" clergy.
Mr. Brown was assisted by two sisters, Misses S.J. and Norma Doswell, who established an afternoon Sunday school and confirmation class. On January 20, 1920, four worshippers were confirmed and one infant was baptized. On June 30, Thomas Brown was ordained and placed in charge of the mission. Mr. Oscar Conn, a member of that first confirmation class, was the lay leader of Trinity's first major outreach project – distributing Thanksgiving and Christmas baskets to neighbors.
Reverend Edward Ellis became Trinity's second vicar in 1922. Father Ellis took a special interest in athletics and encouraged the boys of Trinity to provide the nucleus for a city basketball team. The team played games on Wine Cellar Field near Trinity's High Street location. During this time, the congregation also organized the St. Andrew's Club for men and boys of the mission.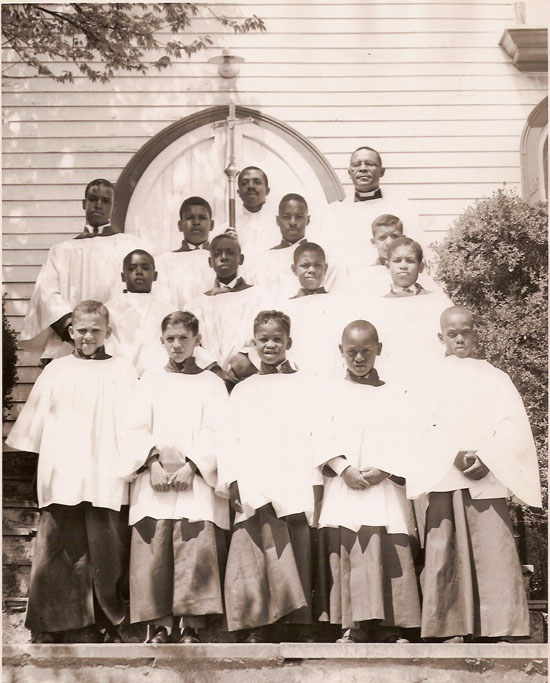 In the ensuing years, the mission grew slowly under the leadership of The Reverend Andrew Forsythe (1927-1930), The Reverend Fred Pike (1930-1936), and The Reverend Cornelius Dawson (1936-1946). Urban development forced the growing mission to vacate the High Street building in 1940. Parishioners celebrated the last service there on Good Friday; on Easter Sunday, they began worshiping in a beautiful little church on the corner of Tenth Street NW and Grady Avenue. The new building was constructed from salvaged sections of the Church of the Ascension in Palmyra, Virginia. This building served the Trinity congregation for the next thirty-four years.
The Tenth Street neighborhood was a predominantly African-American one, and Trinity continued to be active in reaching out to the community. Mrs. Daisy Green, a local nurse, and Father Dawson wished to establish a nursery school to serve families in the area. Due to the small size of the church building, they were not able to house the school at Trinity, but from that seed the Janie Porter Barrett Day Care Center was created and continues today.
The next vicar at Trinity, The Reverend Alexander Easley (1947-1951), requested and received approval for Trinity to become a mission church. The Reverend Charles Fox was appointed in 1952 as Trinity's seventh vicar. He had been a student and friend during the time of Father Dawson's tenure and was no stranger to the Trinity family. Father Fox did much to improve race relations in the community. He encouraged Trinity's youth to attend recently desegregated camps at Roslyn and Shrinemont with other children from the Diocese.
The Revered Henry Mitchell served Trinity from 1958 to 1977, a tumultuous period during which Virginia practiced "Massive Resistance" prior to acquiescing to federally mandated public school integration.Nonetheless, Trinity continued to grow in size and diversity, actively opening its doors to worshippers regardless of skin color.  In 1964, Father Mitchell launched an ambitious outreach effort, the Trinity Program. The first component provided summer activities for African-American children in the northwest sector of the city. The activities were based at Trinity, with two other local Episcopal churches, St. Paul's Memorial and Christ Episcopal, contributing substantial financial resources, volunteers, and moral support. The program was quite successful and eventually grew into "Camp Faith" in Earlysville, serving children from all sections of the city and county. The second component of the Trinity Program was a year-round preschool. Later known as the James Hicks Trinity Episcopal Child Care Center, the preschool served local families for nearly 40 years.
Trinity's growing congregation and outreach efforts necessitated moving to a larger building. On June 30, 1972, the new building at 1042 Preston Avenue was dedicated by Presiding Bishop John Allin. The new church, parish hall, and rectory were cause for great thanksgiving!
Trinity continued its involvement in the spiritual, educational, racial, and political affairs of the community during the tenure of The Revered William Guthrie (1980-1988). From 1990 to 1995, The Reverend Scott Benhase presided over a time of great change at Trinity. Father Benhase was Trinity's first full-time white vicar, and as the congregation grew, it became a far more integrated one. Father Benhase energized the congregation, expanding lay leadership in the service, religious education, and outreach efforts. The building was also renovated and expanded. Father Benhase was joined by assistant pastor Reverend Allan Johnson-Taylor, a newly ordained African American priest. The biracial ministry of Father Benhase and Father Johnson-Taylor was an effective one, and they guided Trinity through an exciting period of growth. One significant accomplishment of this period was the acquisition of an adjacent property which Trinity has used as a transitional housing ministry in conjunction with a succession of local needs and agencies.
In 1996, The Reverend Melana Nelson-Amaker joined Trinity as its first female vicar. Mother Melana focused on lively worship, strong pastoral care, and spiritual growth for church members. She also encouraged Trinity's collaboration with other churches to increase Trinity's impact on the Charlottesville community.
Following Mother Melana's departure in 2008, Trinity spent two years with interim pastor Reverend Sherry Hardwick-Thomas and other supply clergy. The vestry and other lay leaders were instrumental in guiding Trinity through this time of transition. In July 2010, Pastor Cass Bailey became vicar of Trinity and continues to lead our church today.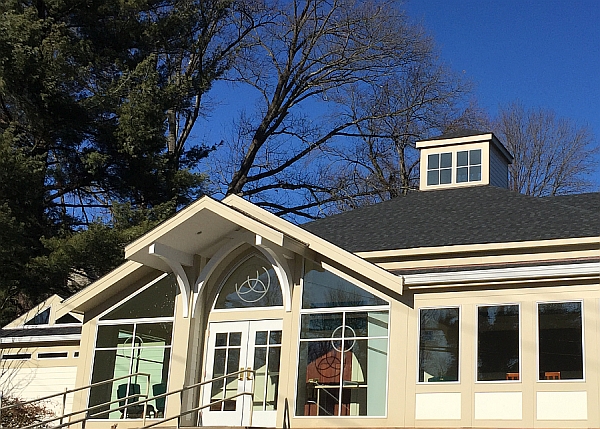 Over the past decade, Pastor Cass has led the Trinity congregation in several bold and successful initiatives. One of the first was the development of Trinity's ministry of building food security for local residents through Bread and Roses, which seeks to change the way people access, interact with, and consume food (see the Bread and Roses tab for more information).He also oversaw the revitalization of Trinity's grounds to repurpose the former child care center outdoor play area into both a  playground  and outdoor spiritual and worship center.
Most recently, he oversaw a major renovation of Trinity's physical plant  which also included the acquisition of a second adjacent property, which will be developed over the next several years. But the most significant project was his leadership in Trinity's transition to full parish status. At the Diocesan Convention of 2018, Trinity's vicar became a parish priest. What a wonderful way to celebrate its centennial!
For more than one hundred  years, our priests have been leaders in the community, builders of bridges across divisive social and political issues, and evangelists who have challenged us to follow Christ in the face of sometimes overwhelming societal pressure to the contrary. The untiring efforts of a strong laity have had a profound influence on the church and the community. We confidently pray that our future will open to us new and exciting ways to grow in the love of God and to fulfill our call to serve the Charlottesville community.