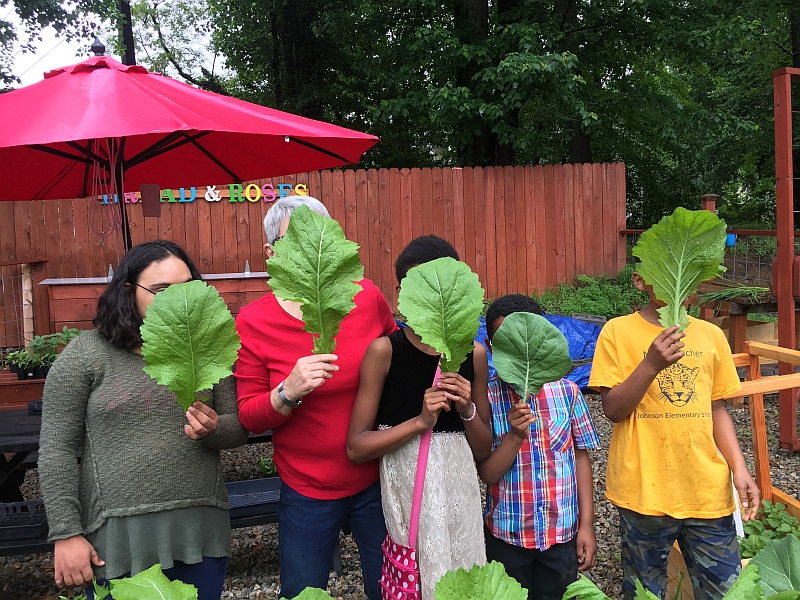 The Bread & Roses gardens feature accessible raised vegetable beds and beautifully landscaped ornamental plantings around our church building. These gardens serve as a demonstration tool to show people how to raise their own fresh produce and grow their own beauty, even in limited urban space.  The vegetables provide tasty ingredients for our community meals and classes, and we share the surplus with local soup kitchens and community groups. Join us for a garden gathering to share skills and get your hands dirty, or contact us to bring a group to visit the garden for a tour or program.
Garden Basics Classes
The Piedmont Master Gardeners hosts a series of FREE gardening classes designed to get new gardeners oriented quickly to important tasks (and botanical rewards) for each season in the gardening calendar.  Some classes cover vegetable gardening while others focus on flowers and shrubs.
Please check the calendar to find dates or check out the Piedmont Master Gardener website!
Garden Gatherings
During the growing season (April – October) we meet in the gardens weekly.  We share skills, pull weeds, catch up on the week, relax, and enjoy being outside with our hands in the soil.  You are welcome to join us, whether you're a new or experienced gardener.  Bad backs and bad knees are totally fine–our beds are accessible and there is a task for every interest, plus gardening gloves in all sizes!  Please contact us if you have questions, or would like to be added to our weekly gardening updates email.  Check our calendar for garden work days!
Sunday Pop-Up Markets
While much of our produce is distributed to partner organizations in town, on occasional Sunday mornings we have a pop-up market in the parish hall after the 10:30 service so you can get some fresh produce for the week ahead!