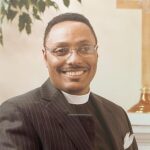 Pastor Cass Bailey was called to serve at Trinity in 2010 from St. Christopher's Episcopal Church in Kailua, Hawaii, where he had been Rector since 1998. In his twelve years there, he oversaw the doubling of membership and expansion of ministry to include a homeless shelter program and children's community chorus among other things. His model of spiritual formation for developing Christians was used as a model for the Diocese of Hawaii.
Pastor Cass, as he likes to be called, completed his undergraduate education at Amherst College in Amherst, Massachusetts and graduated from the Berkeley Divinity School and Yale Divinity School at Yale University in New Haven Connecticut. He also holds a certificate in advanced church leadership from Asbury Seminary in Lexington, KY. He has also served parishes in Hartford and New Haven Connecticut. His wife, Patricia, completed her undergraduate education at UVA, as well as a graduate degree in nursing. Tish also has a masters' degree in public health and a doctorate in clinical psychology. The Baileys currently have four adopted children, two daughters and two sons. You will also find their grandson living with them and from time to time one or two foster children.
Daniel Brinson
Music Director
Daniel Brinson came to St. Paul's in 2012. Daniel is a native of Memphis, TN, and holds degrees from the Oberlin Conservatory of Music and the Yale Institute of Sacred Music. Before coming to St. Paul's he served for ten years at Grace Episcopal in Lexington, VA. Daniel lives in Charlottesville with his wife Laura and their two children. In addition to music Daniel enjoys reading and hiking.
Kirstan Pitts
Bread & Roses Program Coordinator & Parish Adminstrator
Marcia Joseph
Senior Warden
Amaka Ikefuna
Jr. Warden
Kristin Szakos
Secretary
Brian Hunt
Treasurer
Our Vestry is organized into teams that correlate with Trinity's mission:
Reconciliation
Pat Jones Turner
Transformation
Karl Shuve
Leah Puryear
Love
Janette Kawachi
Mathew Shelton
Lay Ministers: The Congregation
Diocese of Virginia Bishops:
The Right Reverend Susan Goff
The Right Reverend Jennifer Brooke-Davidson
The Right Reverend Porter Taylor