Listening to God is Essential to Walking with God
At Trinity, all of us—committed Christians as well as those just beginning to explore—are pilgrims on the way. We believe that ongoing study of Scripture and theological reflections and spirituality is an essential tool for learning and growth. As a result, we offer a variety of educational forums, classes, Bible studies, spiritual retreats, and special eventsto help parishioners deepen their understanding of the Christian faith and grow in the service and love of God. We invite you to take a look at our offerings.
Most of these offerings, including schedule and meeting details, are publicized in our weekly email newsletters.  To subscribe, please using the newsletter subscription form at the bottom of the page or contact the church office by calling 434-293-3157 or emailing [email protected]
CHILDREN & YOUTH
Trinity Church offers programs for children and youth, providing opportunities for all to learn about and experience the mystery of God's presence in their lives, and providing activities to build relationships and enjoy their time with the church. The groups are split accordingly:
3-7 years
8-12 years
13-16 years
We also offer child care during worship for those parents desiring it, although we also encourage parents to include children in our Sunday worship service.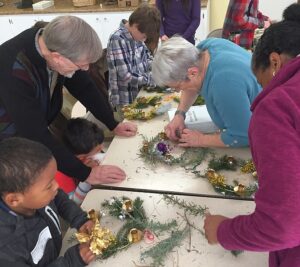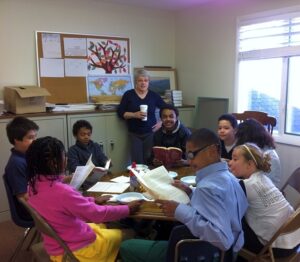 ADULT
Each year, at our Adult Small Group, Trinity church chooses a theme to reflect on and dig deeper into. The Adult education opportunities focus on this theme which provides an extra space for further discussion and thought.
In addition, Trinity offers a Bible Study. Ours is not a book study, but is a true Bible study and discussion. Each class is a standalone event so you don't need to worry about committing yourself for a long haul. Drop-ins are always welcome.  We meet in person. Those who wish to join via Zoom can do so with the Trinity Zoom Link under the Grow tab on the website.
EFM
EfM is a unique four-year learning program in theological education, sponsored by Sewanee, The University of the South, based on small-group study and practice. EfM helps participants encounter the breadth and depth of the Christian tradition and bring it into conversation with their experiences of the world as they study, worship and engagein theological reflection together.
Over a four-year cycle, in a curriculum laid out in Volumes A to D of EfM's Reading and Reflection Guides, participants read and study the Hebrew Bible, the New Testament, Church History, and Theology, Ethics and Interfaith Encounter. At the heart of the EfM program is the regular group practice of Theological Reflection, following a method that begins with one of four sources – Personal Experience, Personal Position, Christian Tradition or Culture – and explores the image, matter or issue in question through a set of theological lenses, connecting with the other sources, and seeking to apply the reflection to one's life and ministry