Bread & Roses, an outreach ministry of Trinity Episcopal Church, supports teaching the individual skills of cooking, gardening, and nutrition necessary for a healthy and just community food system.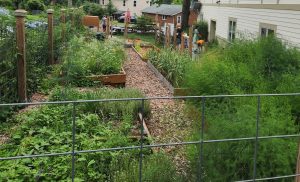 Our extensive vegetable, herb, and flower gardens demonstrate how to raise fresh produce and grow beauty, even in limited urban space.  The vegetables and herbs provide tasty ingredients for our community meals and classes, with surplus passed on to other organizations.  We have seasonal gardening classes and weekly gardening sessions for folks who like to learn by doing!  In 2015, we also helped to establish a new community garden for City of Promise, a non-profit working with youth in neighborhoods near Trinity, and now we enjoy gardening together.
We also have a certified commercial kitchen.  We partner with local organizations to offer cooking classes, recipe demonstrations, and other educational activities.  Our programs emphasize the cooking skills needed to prepare healthy, fresh, and affordable food.  We have also developed mobile kitchen kits for cooking demonstrations at farmers markets, food pantries, and other locations.  Our kitchen is available for hourly rental to food entrepreneurs who are growing their own businesses.
You can make your kitchen rental payment here.
Want to know more? Interested in volunteering?
For general information, email [email protected].