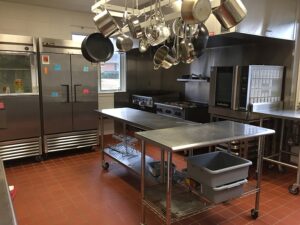 The Bread & Roses Community Kitchen (BRCK) is a space to cook and create.  In 2013 and 2014 we converted our kitchen to a certified commercial  kitchen  that we offer to our neighborhoods and the greater Charlottesville area.  We work other local organizations to offer cooking and nutrition classes, particularly reaching out to community members who struggle with access to fresh food.  The kitchen is also available for rent to local food microenterprises who need room to expand.  We envision our kitchen as a happy hive of good food and fellowship, and welcome volunteers who are interested in cooking, teaching, or sharing a meal!
Kitchen Rental
Is your food based business ready to take off?
Are you in need of finding affordable, professional commercial kitchen space?
Are you interested in being a part of the movement that supports the creation of a  healthy, equitable and accessible local food system?
We realize that owning and operating a food based business is challenging. Many times the business is a labor of love for the small business owner. A startup business,  may find it  difficult to afford to own or even rent a  commercially certified kitchen space to create food products. In recognizing this as an obstacle for a small business owner, BRCK offers a means of renting our commercial kitchen that promotes sound commercial food preparation practices, and  is economical for a business that is striving to be a sustainable and economical addition to our community of food based businesses.
If you'd like to learn more about the kitchen rental process, please contact the Kitchen Manager at [email protected]. We will respond to your inquiry as soon as possible.
You can make your kitchen rental payment here via Vanco.
Cooking Classes
Our kitchen is available to local non-profits who would like a space to offer cooking or nutrition-related programming.  In the past year we have collaborated with local hospitals and other non-profits to host several series of free cooking classes for underserved communities.  Contact the Program Coordinator if you are interest in hosting a class or taking a class.
Community Meals
Every Sunday morning from September through May the talented kitchen crew at Trinity uses the kitchen to prepare breakfast featuring local eggs and produce from our gardens.  Anyone is welcome to come and share a meal!  Breakfast starts at 8:30 am.
Various potlucks and meals are planning throughout the year. Please see our calendar for the next meal!
– Mobile Kitchen Kits –
Bread & Roses uses mobile kitchen kits (MKK) within the community to provide demonstrations about healthy cooking to where they are needed most!  Check out our calendar to see where we are demoing this week.
Our MKKs are also available for rent in the community to organizations who are also striving to help their communities acquire the skills to cook healthy food. Please contact us for our Mobile Kitchen Kit Rental Agreement and our Mobile Kitchen Equipment List.
If you are interested in renting one of our MKKs or would like to request a staffed cooking demonstration for your organization please fill out the contact form below. Please make sure describe how you plan to use the kits and what dates you hope to rent them.
"*" indicates required fields